Model: EVMS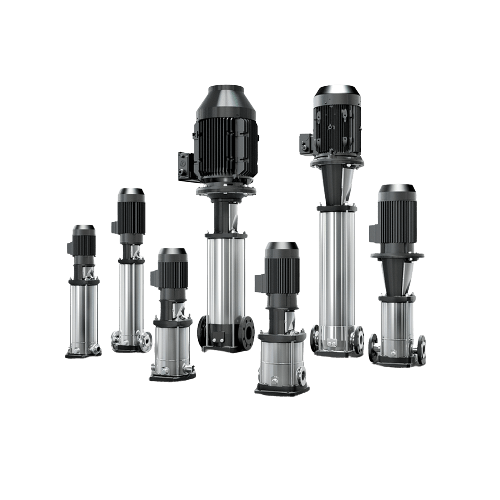 Model: EVMS
EBARA Vertical Multistage Pump
Innovative hydraulic solutions: Long life of the motor bearing, High pump efficiency classified in MEI > 0.7 as the most efficient models, High pump efficiency classified in MEI > 0.7 as the most efficient models, Patent Pending, and Commercial motors can be fitted to all of the pump models without any modifications thanks to low pump axial thrust load.
Easy maintenance: The cartridge shaft seal enables the plug in replacement of the shaft seal without disassembling the motor bracket and The spacer coupling allows easy maintenance without having to remove heavy motors over 5.5 kW
Smart plug solutions: Air ventilation plug, Water filling & sensor plug, Commercial sensor fitting, Measurements for suction and discharge pressure / drain, and Two priming plugs are on both sides of motor brackets for EVMS32-90. A ventilation plug is integrated with one priming plug.
Stainless steel tie rods: Tie rods in EN 1.4057 (AISI 431) as standard.
Shaft seal solutions: Shaft seal material: B: Resin impregnated carbon graphite Q: Sintered silicon carbide Qg: Silicon carbide with carbon graphite Carbon or graphite inclusions with silicon carbide can be used as dry lubricant to reduce friction, It's conforming to EN12756 (ex DIN 24960).
Piping connection options: The various pipe connections are available depending on the application requirements and The external dimensions can be adjusted to the replacement of the existing pump in the wide majority
EBARA standard motor solutions: • IE3 efficiency for both 50 and 60 Hz* operation, according IEC 60034-30 standard. • ETM motors are available from 0.75 up to 11 kW for both 50 and 60 Hz** • PTC sensors (thermistors) are standard from 1.5 kW upwards for motor protection at 150°C • Unloosable screws and sealing are standard for terminal box fixing from 0.75 kW upwards • Stable inverter mounting on fan covers made of pressed steel
Vertical multistage centrifugal electric pumps available in various versions: cast iron (EVMG), AISI 304 stainless steel (EVM), AISI 316 stainless steel (EVML)
Reliable, strong, silent and easy to service
The EVM pumps can be coupled with standard IEC motors
They offer state-of-the-art technical solutions
The EVM vertical multistage pumps (hydraulic parts) are in compliance with the 94/9/CE Directive on ATEX products (they belong to Group II, Category 2), zones 1 and 2, temperature class T2 and T4
Oval counter-flanges, "N" version, already included
Round counter-flanges, "F" version, as accessories
Version with WRAS approval for standard version of EVM 3-5-10-18.