UN TYPE – Variable Speed Booster Pump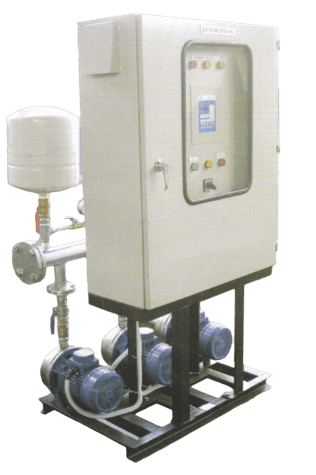 UN TYPE – Variable Speed Booster Pump
EBARA Variable Speed Pressure Booster Unit
Featuring of variable speed control Variable speed drives are used since they can adjust the motor's power to fit specific need, resulting in reduced energy consumption and in increased saving.
Constant estimated terminal pressure control The controller provides CETP (Constant Estimated Terminal Pressure) control that adjusts pump discharge pressure in relation to pressure loss caused by pipe resistance according to water flow. Thus, it can hold down electric power consumption compared to constant discharge pressure control with variable speed operation.
Stable water supply Pumps are in parallel operation for high demand and in the event of pump/inverter fault, the controller automatically activates another pump to assure water supply without stopping system operation.
Compact layout Layout is very compact. All components are integrated on a rugged steel base. It is ready for use by only connecting with supply piping and to the power source. It occupies lesser space and requires easier installation than conventional units.
Extend the life of pump Pumps are operation in automatic alternate parallel to extend the life of the pumps.
Simple and compact inner control panel Simple wiring by using RS485 digital communication can reduce control panel dimension to be a compact design.