MXC-U Series: Closed Circuit Cross Flow Square Type Cooling Tower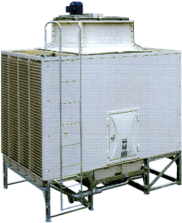 MXC-U Series: Closed Circuit Cross Flow Square Type Cooling Tower
Closed Circuit Cross Flow Square Type Cooling Tower
Capacity: 120m3/h as 1 cell "MXC-U" series cooling towers cover the ranges from 5 USRt to 1050 USRt.
Improved maintenance performance by the optimum arrangement of new design copper coil and high-performance infill. Improved fan performance and noise level by optimum design based on air flow of three dimensional opposite solution method then realized max. 150 ton per 1 cell.
Unnecessary sprinkler piping work at site by design of internal piping type for all of models. By changing design of sprinkler system to internal piping style, appearance to be simply and site assembly work can be safety. Applying re-cycle PVC for sprinkler piping.
Saving on running and operating cost By applying fan casing in bell mouth equipped with a high efficient low noise fan, especially designed for cooling tower, performance heat exchanger, and combined with a new developed highly it enables the fan motor to be of low power, thus saving energy and as a result, in effectively the running cost.