INPALME 2015 at MICC Medan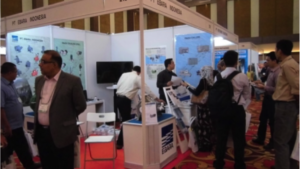 Palm oil business has become one of the most important businesses in the world. As we know, Indonesia now has become the biggest player in this palm oil business, particularly in plantation and in producing palm oil. Thus, other supporting palm oil industry business will follow its growth.
INPALME 2015 dedicated to supporting palm oil industry to give many advantages such as gathering information, updating, trading, meet partners, and will help players and stakeholders keep well informed about palm oil industry, This event was held at the Medan International Convention Center (MICC) Medan, North Sumatera, from 23 to 25 April 2015 and followed by over 60 international and local industrial player from several countries and visited around 1500 visitors.
This is the first time for PT Ebara Indonesia to following palm oil exhibition like this, this event is very useful to strengthen EBARA brand in Sumatera area and introduce EBARA pump model SAL and TFS to the market of palm oil industry. Many customers visited the EBARA booth and took interest with pump that displayed in the booth and they were given an informative knowledge on EBARA quality pumping products available.