Slurry Pump (SAL)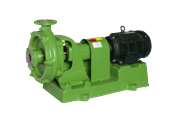 Slurry Pump (SAL)
Features
No power overload : Specially designed impeller with a limit load feature is used so that there is never a power overload no matter what the head
Low energy consumption and yet highly efficient : Unique hydraulic design makes this pump more efficient than any other type. The initial rate of efficiency is sustained for reduced electrical power consumption
Highly durable : A special wear- resistant iron casting is used for both body and impeller
Ample motor output allowance : The motor has ample power output allowance. It will operate without change of output with mixed solutions of 1.1 specific gravity
Minimal gland packing leakage : Rear impeller vane ensure minimal leakage from durable gland packing
Corrosion and wear resistant materials : Both chrome iron casting and two-phase stainless steel are available. Interchange ability makes a wide range of applications possible.